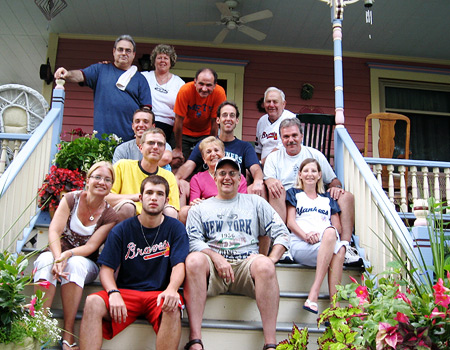 We are extremely proud of our reviews and always grateful to our guests when they let us know how they enjoyed their stay.  If you would like to leave a review, just click the button below.  You may also post your review to additional travel sites that are linked in the sidebar.  Thank you!
Steve and Patti D'Esposito
Click here to submit your review.
---
---
A Perfect Choice
Oct 15, 2012
by
Mrs. Singy's Blog
If you have not had the pleasure of experiencing the quaint village of Cooperstown in scenic upstate New York, please add it to your "must do" list. Cooperstown satiates visitors for its lovely location on Otsego Lake, its' line of dazzling impeccable Victorian homes, and its diverse collection of shops and restaurants, to name a few characteristics.

For baseball fans, add to the mix the National Baseball Hall of Fame & Museum on Main Street and surely Cooperstown bats a home run in perfect getaways. (Now I sound like a travel brochure.)

Ken, the kids, and I have visited Cooperstown twice - in support of Ken's pals Eddie and Cal, former Orioles teammates inducted into the Hall of Fame in 2003 (Eddie Murray) and 2007 (Cal Ripken Jr).

For a switch, we had opted to stay in a Bed & Breakfast versus a hotel. Online I had found a charming, pretty, and well-kept house on Chestnut Street called the Rose and Thistle, less than a mile from the Main Street bustle.

Perfect choice. Two Yankees fans own it. Steve and Patti D'Esposito from New Jersey had moved upstate in 2002 to try their hands at innkeeping, after working Manhattan's rat race their entire careers.

Let me assure you ... this couple is in the perfect occupation.

We stayed for several nights at their inn and were hit with hospitality, warmth, and graciousness unequaled at any hotel. Plus we met who we've since labeled "The Cooperstown Gang" ... a group of the most die-hard baseball fans I've ever encountered in the 18 years as Mrs. Singy: Larry, Joan & Henry of N.J. ... Pat & Jim of N.Y. ... Scott of CT ... and Agatha, Steve & Steve Jr. of N.J., most Yankees' fans, with some Braves, Dodgers, and Mets in the mix - who meet year after year at the Rose and Thistle to celebrate baseball and the Hall of Fame's inductees.

This bunch of extremely friendly folks welcomed the newest family, the Singletons, to their annual gathering with open arms (it didn't hurt one of us happened to be a baseball announcer for the NY Yankees).

"They are baseball junkies who are pranksters, and loveable like family," said Patti of her Hall of Fame Weekend crew.

When Patti and Steve had announced to them that Ken Singleton would be staying at the inn, "Jim started to stutter and shake," said Patti, "and almost spilled his coffee. Henry was close to tears upon meeting Ken and said it was the best experience in his life. Larry was impressed with the amount of time Ken spent with our guests - he said he didn't want to wash his shoulder after Ken hugged him!"

Our welcome by this lovely group was astonishing. A splendid weekend! Steve slaps a scrumptious abundant breakfast on the large dining room table like your stomach wouldn't believe ... and the D'Espositos treat their guests as family, even hosting a "porch barbeque" after the induction ceremony is over (which the group attends of course).

As we departed the inn after our first visit, they promised to save us the top floor room for Cal Ripen Jr's induction in 2007 - and do you know - they did? We revisited Cooperstown again, stayed at their wonderful B&B, and reacquainted with The Cooperstown Gang during an equally wonderful weekend, if not better.

"Everyone was humbled and honored to be in the Singleton family's company," said Patti.

Yet it was our family actually who felt humbled to be so welcomed, and able to stay connected via e-mail to such a wonderful baseball bunch - the Cooperstown gang.

(And if I was writing a travel column, the Rose and Thistle would be awarded five stars! Visit their beautiful inn. Tell them the Singletons sent you.)

---
Outstanding
Oct 15, 2009
by
Hart Family
Our stay just could not have been better in any way. Steve and Patti went out of their way to accomodate our family during the very busy Cooperstown Pumpkin Fest Weekend. Our rooms were great! The hospitality outstanding! The breakfast table was set with a beautiful Fall theme. Breakfast was served course after course with each dish more remarkable than the last! The service flowed and our family reunion conversation was never interuppted. The corn pudding was outstanding and the homemade bread pudding was unforgettable. Yet most remarkable were our hosts efforts to make our family reunion so memorable!

---
A Truly Enjoyable Experience
Aug 15, 2009
by
Westside5665
My husband and I had the pleasure of staying at the Rose and Thistle. We had never been to Cooperstown before and had only stayed at one other B & B. From the moment that we arrived, Patti and Steve made us feel like they knew us forever. Steve explained all about Cooperstown and gave us some excellent recommendations for dining. The accomodations were lovely. The bed was comfortable and the room had all the comforts of home from the Q tips to the little chocolates. The breakfasts that Steve prepared were delicious. I loved the blueberry pancakes. The coffee was awesome! Both are so warm and friendly, but it is Patti's wonderful stories I will remember. If we ever return to Cooperstown, we will definitely return to the Rose and Thistle. But without a doubt I must say that it was a truly enjoyable experience for someone who didn't like B & B's until now. Thanks Patti and Steve for all of your warmth.

---